Happy new year everyone! Have you made any resolutions yet? Roger and I worked on our 2009 to-do list while drinking beer with Adam in various Amsterdam bars. Bavaria, Heineken, Amstel, and more Bavaria. If we were feeling fancy we'd get one of those spiffy, tiny, no-refill-available, 2.50 euro Diet Cokes. Mmm, refreshing!
We got back from our trip Monday, and I haven't had a free moment since then to sit down and write a blog post. And since our hotel charged $5/hr for internet, I decided not to blog while on the trip either. So here's the first part of our trip in a nutshell (for all your squirrel fans out there).
First things first (and YES, I have to do this) – thank you Evan for text messaging me the Peach Bowl score. I seriously worried you got the score backwards until I could get home and look it up for myself at ESPN. Geaux tigers! But moving on . . .
We arrived in Amsterdam at 7:30 New Year's morning. Here's Adam and me at Schipol airport relieved to be off the plane and ready to start our adventure. During the short train ride to Centraal Station, we were excited to see snow on the ground! But that's the last of it we saw for the entire trip. Ahh well.
When we stepped off the train we were greeted by partiers still walking around with beer, tons of red fireworks paper, and piles of trash everywhere. It was eerily similar to every New Orleans morning in the Quarter but fortunately without the urine-in-the-gutters smell. But by the end of the day, most of the trash was history and the city's holiday decorations could take center stage.
This was my first time traveling somewhere besides my hometown during the holidays, and I definitely recommend it. It's cool to see another city's lights and decorations. These lights are at Leidseplein, above the Irish pub and restaurant.
There was also an ice skating rink surrounded by Sinterklaas statues (more on that later) and holiday vendors selling things like chocolate-covered waffles (good grief they're good!), apple tarts, and more. It was like a fair but without the rides, farm animals, and gigantic squashes. A few more pictures of the decorations at Leidseplein:
Everywhere we looked we were greeted by Santa Claus Sinterklaas statues. I'm convinced some of the statues are just Santas the Dutch ordered and then sneakily painted green gloves on. Although I have to admit I've never seen these types of Santas here in the states, so my theory could be woefully wrong.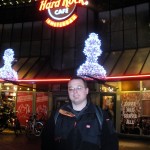 One place we missed last time we were in Amsterdam was Hard Rock Cafe. It's near Leidseplein in a square where you can place chess on a large board painted on the ground, with pieces that stand about knee high. The square is also decorated with Christmas light chess pieces.
We ate there one night, and it's kind of odd. You'd never know you were anywhere besides America from inside that place. Even the music they play is the same as all the other Hard Rocks. I had macaroni and cheese for goodness sake!
But it was good and a fun place. It's right next to a canal, so the view is nice. I also noticed one of the waiters liked to sing to the music as he walked by. Nothing like hearing American rock with a Dutch accent. Very cute.
Did you hear that? It was Roger telling me to wrap it up already. If he ever buys a wrap-it-up light, there will be a war at our house. (If you don't know what that means, ask me later.) Part 2 coming soon – Heineken brewery, Albert Cyup Market, Hemp Museum Gallery, and more!
Also, all of our pictures are on our photo site where you can download or print full-size images of our beautiful faces.