This weekend Roger and I travelled to Charleston to watch our niece Lauren and our nephew Christian graduate high school. Here are the happy grads waiting to line up.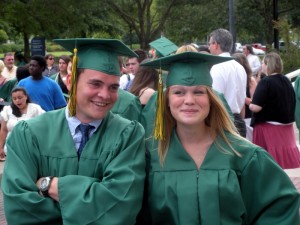 And here are their 700 classmates who graduated with them. The speaker called students' names for over an hour!
Graduation was Sunday afternoon, so we all went to dinner Saturday night at RB's. It's a restaurant right on a port, where people can dock their ships while they eat. We ate upstairs on the outdoor deck and afterwards hung out on the pier watching pelicans and dolphins play in the water.
Immediately after graduation, Lauren and Christian left with their staff sergeant for boot camp. They're both joining the Marines and will be in boot camp at Paris Island until their September graduation. It was really hard to tell them goodbye, but everyone is so proud of them!
More pictures are on our photo site.