Tonight I cooked Lighter Sesame Noodles from Everyday Food. The recipe called for several ingredients that had me wondering if this meal was too adventurous for me. I've never whisked peanut butter with garlic, for example. But the meal was pretty good and looks pretty too.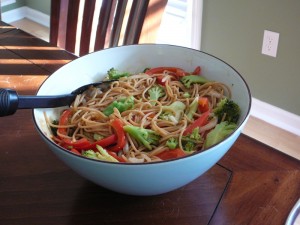 A few notes about this recipe:
It has a good flavor, but I can see where some people may think it's bland. I may try adding a little more soy sauce next time.
I couldn't find sesame oil at Publix, so I bought a sesame seed marinade. Seemed to work fine, although it may be the reason the flavors were a little bland.
The red pepper flakes make this dish a little spicy. I liked it, but if you're sensitive to hot food, go easy on the flakes.
Recipe: Lighter Sesame Noodles