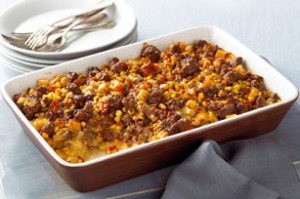 Since football season is upon us, I have started making one of my all time favorite snacks – Velveeta and Rotel cheese dip (do I hear angels singing?). There's nothing like watching SEC football while chowing down on corn chips and cheese. This stuff is so good it makes me cheer for Bama. Well, as long as they aren't playing LSU or Auburn. It's not good enough to make me cheer for Tennessee, but I digress.
Anywho, so when I saw a recipe that started with the word VELVEETA (seriously, do you hear angels singing?), I had to try it. It's super easy to make, the ingredients are cheap, and it tastes good. And kids can easily help with this recipe (oh yes, I went there – straight to the baby train).
As usual, I made a few notes to make my cooking experience easier next time:
Buy a pre-chopped onion – Yes, it's more expensive than buying an onion and chopping it myself, but it's still cheaper than Roger hauling my hiny to the hospital after I slightly nick my finger with a knife and then pass out from the sliver of blood that appears, trip over a cat on the way down, and hit my head on the counter. Plus, I'm pretty sure blood doesn't go with anything – even Velveeta. Pre-chopped onions – another reason I love Publix, and until I actually attend one of their knife skills classes, I'll continue to buy these. It's not that I can't chop veggies. I just have a bad history with onions. OK? Stop judging me.
Velveeta is fun for everyone! – If your kid is old enough to use a knife, let them cut up the Velveeta. It's soft enough to use a butter knife, so it's pretty kid friendly. If they're too young to use a knife, then they can

throw

carefully place the chunks of cheese into the pot for you. Now, where is my mommy blog license?
Brand names are for suckers – Because this recipe is from Kraft's magazine, they pimp all of their products in the ingredients. Hey, it's just good ol fashioned marketing. But I used grocery store brands for all of it (except the Velveeta – there is NO SUBSTITUTE – angels don't sing for regular old "cheese product"), and it tasted fine.
Take your aggression out on the taters – Frozen hashbrowns are frozen. Yes, I see how obvious that is now, but I wasn't thinking about that before. And the taters don't come in a bag of just 4 cups, so I had to break them up somehow. I threw them in the microwave for 1 minute and then took my knife to them like an ice pick. It was like experiencing a whole new kind of frozen treat. The taters broke apart with ease, and I had a strange sense to smile and say muhahahah. But moving on.
Sour cream could add some flavor – Nothing exciting about this statement. But I think adding a dollup of sour cream to each serving could be quite tasty. (Did I just say "dollup"? I'm delirious from the Velveeta.)
Check out the recipe below and enjoy!
Ingredients
1 lb. ground beef

1   red pepper, chopped

1 onion, chopped

1 pkg.  (1-1/4 oz.) TACO BELL® HOME ORIGINALS® Taco Seasoning Mix

1/2 cup water

4 cups  frozen Southern-style hash browns (cubed not shredded variety)

1 pkg. (10 oz.) frozen corn

1/2 lb.  (8 oz.) VELVEETA Pasteurized Prepared Cheese Product, cut into 1/2-inch cubes
HEAT oven to 350°F.
BROWN meat with peppers and onions in large skillet; drain. Return to skillet.
STIR in taco mix and water. Add potatoes, corn and VELVEETA; mix well. Spoon into 13×9-inch baking dish; cover.
BAKE 20 min.; stir. Bake, uncovered, 15 min. or until heated through.