I don't have a lot of notes on this dish, because I followed the directions exactly. And it came out delicious!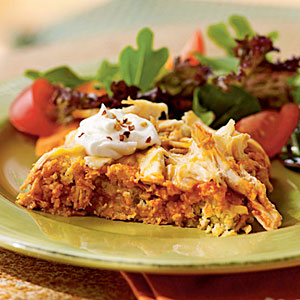 So instead, I'll share a story… Recently my local grocery store Publix rearranged their aisles. I thought I had mastered the new order fairly well until last night.
That's when I learned that while spaghetti and Velveeta cheese are considered "Ethnic Foods," tacos and related Mexican treats are not. And on top of that, they were placed on aisle 0, which faces the bakery (what?!?) and has no sign. NO SIGN!
Now if I managed a grocery store and was forced to have an aisle with no sign, do you know what I'd put on that aisle? Random crap that few people buy. Not tacos – possibly the easiest quick fix meal on the planet! I live in the land of soccer moms. I'm thinking tacos (and hot dogs, frozen pizzas, chips, soda, and juice) are hot ticket items.
A conversation
Me: Excuse me, where are the tacos and that kind of stuff?
Stocker: On aisle 0, facing the bakery.
Me: (confusion on my face) Oh. How does THAT make sense? (I flashed my sweetest smile to soften my sarcasm.)
Stocker: (blank stare) …
Me: I mean, spaghetti is on the ethnic foods aisle. So how is Mexican food not ethnic?
Stocker: Well we moved the organic foods so they are on the shelves with everything else instead of their own section. So now the tacos are on that aisle.
Me: (blank stare) … … … OK. Thanks for your help!
This is what it's like to be a technical writer. The table of contents at Publix makes no dang sense, and I'm apparently the only who notices or cares. Ah well, at least the recipe was good!
Chicken Tamale Casserole
(Image and recipe are from Cooking Light.)
Yield: 8 servings
Ingredients
1  cup  (4 ounces) preshredded 4-cheese Mexican blend cheese, divided
1/3  cup  fat-free milk
1/4  cup  egg substitute
1  teaspoon  ground cumin
1/8  teaspoon  ground red pepper
1  (14 3/4-ounce) can cream-style corn
1  (8.5-ounce) box corn muffin mix (such as Martha White)
1  (4-ounce) can chopped green chiles, drained
Cooking spray
1  (10-ounce) can red enchilada sauce (such as Old El Paso)
2  cups  shredded cooked chicken breast
1/2  cup  fat-free sour cream
Preparation
Preheat oven to 400°.
Combine 1/4 cup cheese and next 7 ingredients (through chiles) in a large bowl, stirring just until moist. Pour mixture into a 13 x 9–inch baking dish coated with cooking spray.
Bake at 400° for 15 minutes or until set. Pierce entire surface liberally with a fork; pour enchilada sauce over top. Top with chicken; sprinkle with remaining 3/4 cup cheese. Bake at 400° for 15 minutes or until cheese melts. Remove from oven; let stand 5 minutes. Cut into 8 pieces; top each serving with 1 tablespoon sour cream.
Nutritional Information
Calories: 354 (36% from fat)
Fat: 14.1g (sat 7.1g,mono 3.3g,poly 1.2g)
Protein: 18.9g
Carbohydrate: 36.3g
Fiber: 2.5g
Cholesterol: 58mg
Iron: 1.7mg
Sodium: 620mg
Calcium: 179mg