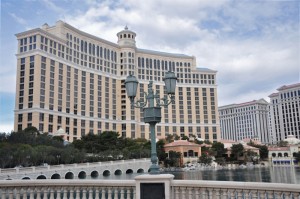 That's the Bellagio, and it was our home for the MLK holiday weekend. Well, more like our crash pad. Since we partied like college kids the entire time, we saw very little of our ultra fancy room.
This was mine and Roger's first time in Vegas, and we were impressed. The hotels are beautiful. I kept thinking how small Vegas looked, but then I realized it only looked small because EVERY building is huge!
While we were there, we saw Love – a Cirque du Soleil show set to Beatles music. It was incredible and by far the best part of the trip. It was our first time seeing this kind of show, and we couldn't stop smiling through the whole thing. The music was great (it's the Beatles after all!), and the choreography and interpretation of the songs were whimsical and touching. I would pay twice my ticket price to see it again.
Another highlight of the trip was eating at Hard Rock Cafe and playing with their Microsoft Surface tables. These huge touchscreens let you explore Hard Rock's memorabilia collection with your own hands. This was my first time seeing a Surface screen up close, and it was super cool. I can't wait to get a coffee table version in our house! (One day, one day.)
We even had a Surface screen at our table, but it didn't work too well. Kids had gotten to the touch screen. Hardware is no match for kid fingers. Here's the group, happy and full.
On Sunday we headed to old Vegas, land of cheap tables and old-school slot machines (you know, the ones that actually spit the coins out the bottom instead of printing a ticket). Leslie and I played $2 roulette for an hour with winnings from a penny slot (Miss Kitty – yeah!), drank free alcohol, and walked away with $40. And Eric sat down, played a single number (which pays 35 to 1), and actually won. "That never happens!" – direct quote from Eric himself.
Here Leslie and I are having a little fun. We're trying to pose like the girly statue behind us. However, a weird guy was walking up behind us, and in our rush I posed more like a flamingo than a show girl.
Speaking of goofing off, Roger and Kevin posed with Humpty Dumpty.
They weren't the only ones…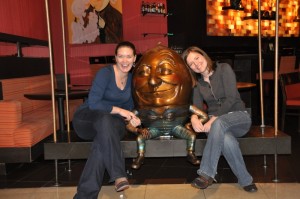 This is why you go to Vegas with friends. They understand why a photo with Humpty Dumpty is necessary. And they don't judge you for it.
We had many other adventures, and you can check them out on our photos page. It includes mine and Roger's photos and some of Camille's, because, well, she has a fancier camera and mad photography skills.