This week our niece Megan had her baby, so on our way to Hilton Head we detoured through Rock Hill to see her and baby Isaiah. He's beautiful!
This makes the first of three babies scheduled to enter our family this year. Our other niece Lauren (the Marine) is having a girl in December, and we follow up with another boy in January. Oh, and just to add to the fun, Roger's sister LaNell is getting married in October. What a happy year for our growing family!
But back to the cuteness at hand…
Isaiah is only 3 days old in these pictures. Megan is being a great mom, showing me and Roger how to change the baby and telling us what to expect (eating, pooping, and sleeping – got it!). She's had a great mentor though – Chanell is one happy grandma! And speaking of happy grandparents, James is pretty excited too. We missed seeing him due to work, but we saw the Clemson outfit Isaiah would be wearing this Saturday for the game, so he can cheer for the tigers along with Grandpa.
Roger and I got some practice in while we were there. Isaiah is the youngest baby I've ever held. He's so sweet!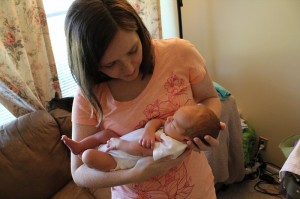 Roger was taking all of the pictures, so I don't have any of him holding Isaiah. But I promise you he held him AND fed him. He was a natural!
We're so happy for Megan. She's feeling great and being the best mama. She even had time to baby me through a spell of nausea that hit while we were there. Oh the fun of pregnancy! She's totally in love with Isaiah, and he's obviously pretty fond of her too.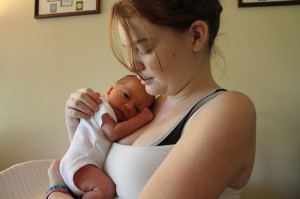 And Grandma's pretty proud too.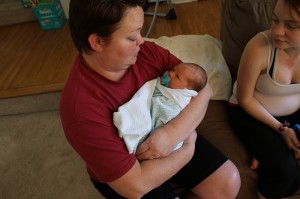 More pictures of Isaiah are at our photos site.