I love pulled-pork sandwiches, and my aunt swore to me they were easy to make. All I needed was a crockpot and about 6 hours. I'm all about slow cooker recipes, because I can put the stuff together before I head out to work and then come home to a great-smelling house and food ready to eat.
Lately I've been cooking recipes from Martha Stewart's Everyday Food, and almost every recipe I've made has been a winner. (Only one recipe was a total failure, but at least Roger and I figured out we don't like lentils.)  So I turned to their website for a pulled-pork recipe.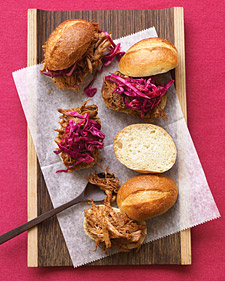 This recipe is super easy and delicious! The taste of the pork is good, but it's subtle enough that you could add barbeque sauce to it if you want. A few notes I made while cooking:
It calls for a 3-lb., boneless "pork shoulder." I couldn't find that at the store, so I got "pork loin roast." I figured any 3-lb. boneless piece of pork would be fine. I was right.
In step 2, it says to add the remaining "cup" of ketchup. Note that they mean the remainder of your 3/4 cup you started with. So you only add 1/4 cup of ketchup at the end. Soooo glad I caught that before I doused the pork in a waterfall of tomato goo.
The recipe calls for red cabbage. Notice they try to dress up the cabbage by calling it "tangy." I'm not buying it. Roger and I skipped it altogether.
As far as "crusty rolls" go, Publix didn't have a great selection. So I went with some fancy sesame-covered hamburger buns. And you know what? It was still good and I didn't have to slice open any rolls.
I recommend this recipe, because it really is very easy. Actually, I recommend the Everyday Food magazine, book, and website. Their recipes are perfect for cooking during the week, because of several reasons:
You can find the ingredients at Publix. Don't get me wrong – I love going to Harry's just as much as anyone else (who knew there were that many kinds of mushrooms?). But I don't have time to peruse 50 varieties of cheese on a Tuesday night.
The ingredients are inexpensive and there's not many of them. These recipes don't require you to spend more than you would going out to dinner. I think the fanciest thing I've used is cashews (although I'm tackling eggplant later this week – details to come).
You don't have to be a chef to figure out the recipe. The steps are easy: cut, chop, saute, blend. This is not a Food Network show after all – it's my kitchen. I don't have time to look up hoighty-toighty cooking terms only to find out they mean "chop delicately."
Pictures are included. Not sure if your dish came out right? Compare it to the picture in the book. Done!
Sure, it's fun to try something fancy every once in a while, but I save that stuff for weekends. That way if I screw it up, Roger and I can go out to eat instead. See "spinach lasagna" for reference – that's a meal that did NOT turn out well. Ugh, it was so bad I wasn't sure what was wrong – my cooking or the recipe itself!
Recipe and source for the picture (I was running to choir practice so I didn't have time to take a picture from my own kitchen)